Use of Funds
All pledges raised by the Rotary AIDS Poker Walk support local and international community service projects by participating Rotary and Rotaract Clubs of Rotary International District 7070,as well as selected NGOs participating as special guests. Rotary clubs operate on a 100% volunteer basis with 0% of donations deducted for administration costs.
Proceeds apportioned to the war on AIDS, like all Rotary initiatives, are carefully allocated directly to health providers, educators or non-profit agencies and hospitals with a proven track record of effectiveness and responsible financial management. Projects are monitored. All have all been carefully vetted and in many cases visited by Canadian Rotarians or their Rotary partners. Accountability is paramount.
Guest Teams are fielded by Registered Canadian Charities selected for their efficient, strategic and compassionate humanitarian work in HIV/AIDS, who will be directing the disbursement of their share of net proceeds in accorance with their own policies and government regulations, independently of Rotary District 7070.
Recipients Include
Check out our recipients stories by clicking below.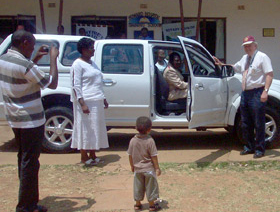 Your Participation, Support and Donations will:
Help save childrens' lives by blocking transmission from mother to child at birth - for the price of a coffee in Canada.
Help save their future by supporting aging grandmothers, desparate relatives, orphanages and schools struggling to raise millions of orphans with insufficient food, water, shelter and clothing.
Help take orphaned girls, many still pre-teens, out of the bordellos, off the street corners and away from HIV/AIDS by providing an alternative means of survival for them and the young siblings they're trying to raise.
Educate: Help community workers and survivors spread the word in their villages about what HIV/AIDS really is, how it's transmitted, how to protect against it and what to do to stay alive.
Treat the sick: Provide ARV treatments, beginning with children, mothers, teachers, caregivers, community leaders - and basic pallative care for the dying when ARV's are unaffordable or unavailable.
... and much more.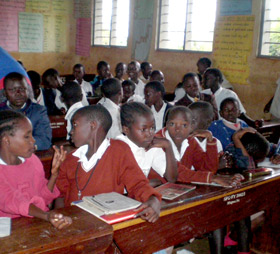 How one agency, Medecins Sans Frontieres / Doctors Without Borders,
is making a difference: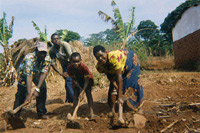 "Our staff sees a visible difference in the health and vibrancy of the patients we treat, as a result of being
able to access the care they need."
From one of our patients at a decentralised site in Milongwe: 'I have spent a lot of money trying to access ARVs at Thyolo but I did not succeed. The first two weeks of taking ARVs are wonderful. I felt the difference. I actually can feel life coming back.'
From Theresa's Story, Malawi: "Many people still think that when you are HIV-positive you are dependant on others and cannot support yourself. With this picture I want to show that a person living with HIV can still work." www.msf.ca